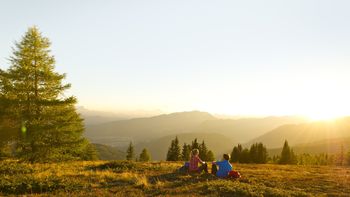 MTB Trails, bike tours through the forest, high-altitude trails, panoramic trails, bike trails or slow trails. There are almost unlimited possibilities to be outside and to experience the colours of autumn. Whether on foot or by bike, on the mountain or in the valley, let the  autumnal colours shine on you.
Experience an unforgettable mild autumn in the south of Austria and become part of the almost limitless experiences! Discover impressive places, experience exciting moments on the via ferrata "Kanzianiberg", become part of the regional culture and culinary delicacies, or explore the most beautiful tours in the region together with a hiking guide.
The following services are included:
• 5 nights in a fully equipped apartment from Karglhof •
Adventure Card - the free adventure program for your active holiday around Lake Faak
• free rental cards
Please note that the included services are only valid for the duration of the offer. Additional nights are excluded.
5 Nights
Can be extended by additional nights up to a maximum of 21 nights.
from
€ 495.--
(in the room Villa apartment 2 to 4)