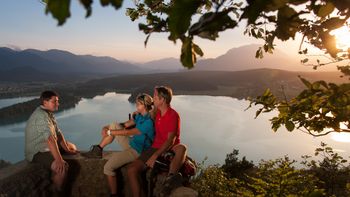 Late summer / autumn active holiday with a free activity program
The following services are included in this offer:


4 nights

"Erlebnis Card"

 –  the free adventure program for your active holiday at Lake Faaker
Free hiking maps on loan
23.000 m² total area surrounding the main house; 2000 m² around the Villa, 300 m² around the bungalows
Approx. 6000 m² well-kept garden and play area at the main house
Wooden garden furniture and high-quality aluminum loungers with textile covering in all the gardens at the Karglhof and on the main beach (which belongs to the holiday apartments at the main house and villa)
Large adventure playground (located next to the new main house – approx. 200 m from our Villa and approx. 2400 m from our bungalows): with swings, slides, sandboxes, children's tractors, go-carts and many other vehicles; snack corners with berries, soccer pitch, volleyball/badminton field, trampoline, fuseball room, air hockey room, animals to pet and more.
Free WiFi in all the apartments, bungalows and suites
Completely equipped kitchen (dishwasher…)
Bed linens, towels, and tea towels
40" LED satellite TV
Free WiFi for you and your family
Safe
Elevator (in the main house)
Laundry room  (with ironing facilities)
in the lake bungalows: tiled stove or fireplace (incl. wood)
All surcharges and fees…
Free parking directly at the houses
Please note that the included services are only valid for the duration of the offer. Additional nights are excluded.
7 Nights
Can be extended by additional nights up to a maximum of 21 nights.
from
€ 644.--
(in the room Main house apartment 3 + 6)