Winter holidays in Carinthia: Lots of fun off the slopes as well
And the Karglhof offers you a magical winter residence
A winter holiday in Carinthia without a snowball fight? Unthinkable! The snow doesn't just tickle the high spirits out of children. Winter hikes on glittering snow through a fairytale-like snow-covered world will keep you in a good mood, even if you're unsure about your movements. Winter hiking fans take their snowshoes and conquer the deep snow across the countryside and enjoy the most beautiful viewpoints. Romantics can hear bells ringing and horse snorting in their ears on a horse-drawn sleigh ride. Skid artists spin their pirouettes on the frozen Aichwaldsee, while curling fans try their luck at "shooting" and keep warm with mulled wine.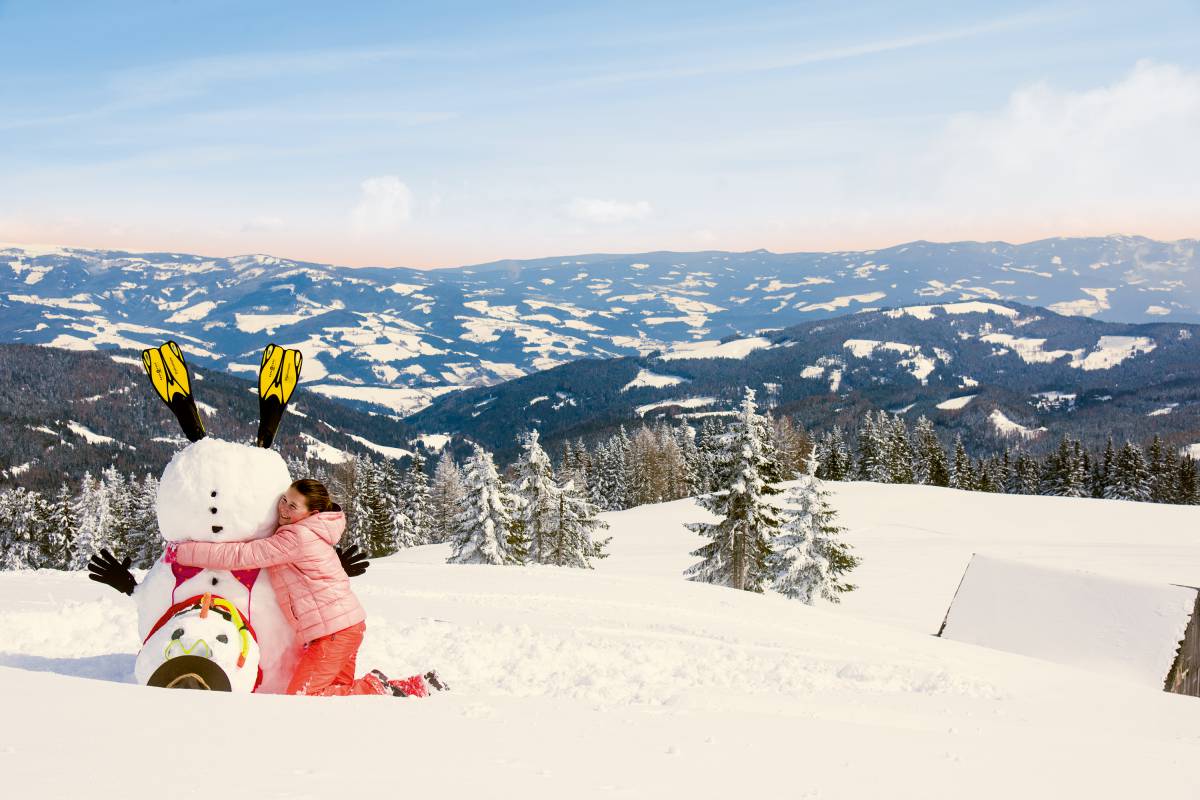 The most fun on a winter holiday in Carinthia: Tobogganing
The absolute hit for children and adults is tobogganing! Grab the Karglhof toboggan, which we would be happy to lend to you free of charge and you can try out a different toboggan run every day of your winter holiday, some with floodlights;
Kopein (length 1 km)
Kanzianiberg (length 3 km)
Baumgartnerhöhe (1,5 km)
Pogöriach (length 1,4 km)
Rodelwiese Oberaichwald
Trabiner (length 1,5 km)
Dreiländereck (length 8,4 km)
Bad Bleiberg (length 700 m)
Hundsmarhof Warmbad (length 4 km)
Our favorite is the Baumgartnerhöhe toboggan run - only 4 km from Karglhof - with its fantastic view of Lake Faaker See.
Hiking & Snowshoe hiking
Some find it even more beautiful to walk around Lake Faaker See in winter than in summer. The quiet romanticism, which lies above the mountain-lake landscape, has a very special magic. If you like hiking in snow-covered mountains: on the Villach ski mountains - Gerlitzen Alpe, Dreiländereck - there are numerous winter hiking trails. We especioally recommend winter hikes in the Dobratsch Nature Park. Beautiful hiking trails start at an altitude of 1,732 m - also to the summit house at 2,176 m above sea level. The nature park also offers one-of-a-kind nature experiences such as snowshoe tours with inoculars, guided by a nature park ranger, or a magical moonlight snowshoe tour up to the Zehnernock.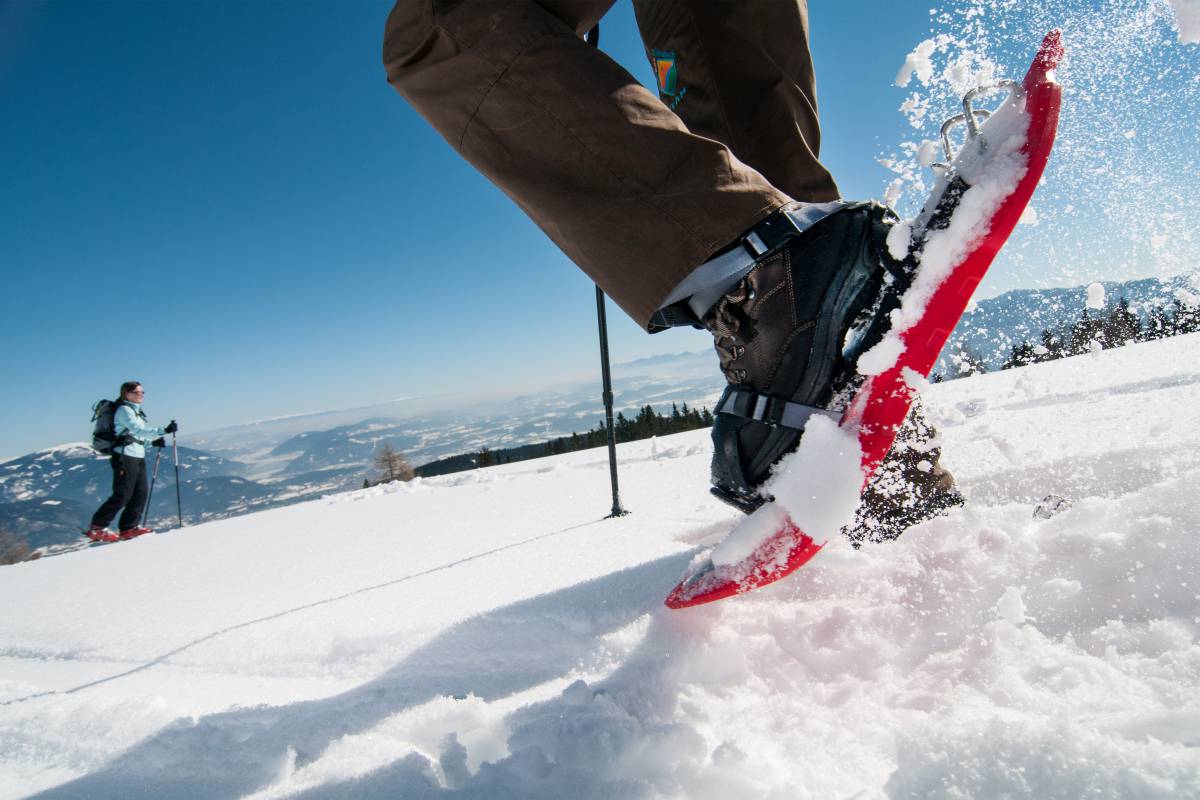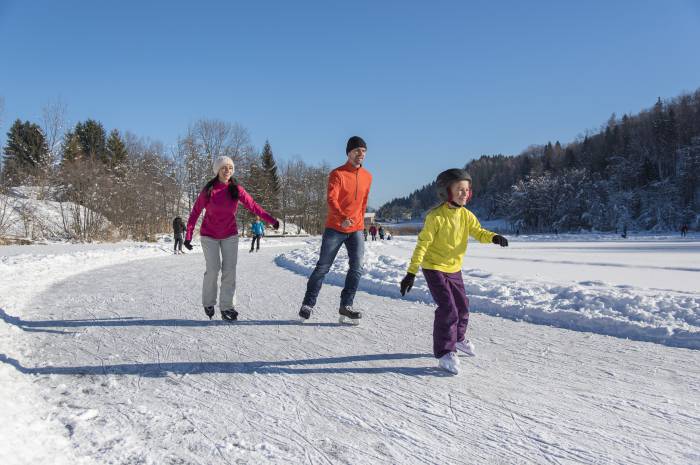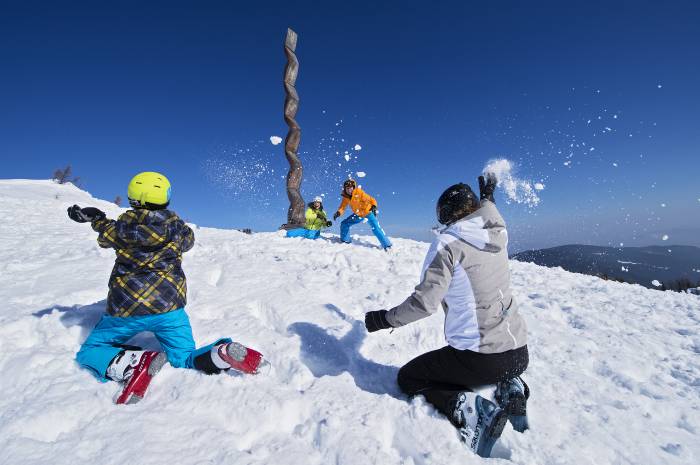 Winter holidays on ice in Carinthia: Ice skating
In winter, the 
lakes in Carinthia 
turn into 
natural ice arenas
. Depending on the weather conditions, they are released for ice-skaters and curling:
Aichwaldsee (only 4 km away)
Silver Lake, Vassacher See, Wörthersee
Ice skating at the Christmas market in Villach is also a wonderful experience.
The snow playground in the Nature Park
Every child must have built a snowman once. But a palace or a slide of snow? This is possible on the snow playground in the Dobratsch Nature Park (near the Rosstratte next to the toboggan hill). Discover the variety of winter fun possibilities for the whole family on your winter holiday in Kärnten – in largely untouched nature!